Sharp CJ13M10 CRT RGB mod
This tutorial covers the RGB mod for Sharp CJ13M10. These instructions should also work for
Sharp CL13M10
Sharp 20KS100
This CRT TV is definitely worth RGB modding because it only comes with one composite input in the front and an RF input at the back. RGB modding this CRT is fairly straightforward.
This mod doesn't work on the below Sharp CRTs. The below newer version of the CRTs use IX3354CE, which uses digital RGB. Therefore, they can't be modded.
Sharp CN13M10B/CN13M10 (2000 and later)
CRT safety
Warning
You can die doing this! So read carefully! CRT TV is not a toy. Do not open a CRT TV. If you don't have any prior knowledge about handling high voltage devices, this guide is not for you. CRT TV contains high enough voltage (20,000+ V) and current to be deadly, even when it is turned off.
Plan of attack
Theory
Sometimes it is nice to know the theory behind the mod. I have put this on a separate page. This shows how the various resistor values are calculated.
Specs
Sharp CJ13M10
Manufactured:
NTSC, 60 Hz
Chassis:
Tube: CPJ370BVBK1S
Sharp
Manufactured:
NTSC, 60 Hz
Chassis:
Tube: 37GDA86X
Service manuals
I couldn't find the service manual for this TV.
The below service manual has equivalent circuit.
Sharp CL13M10 Service ManualSharp 20KS100 Service Manual
Schematics
IX2933CE Chroma Chip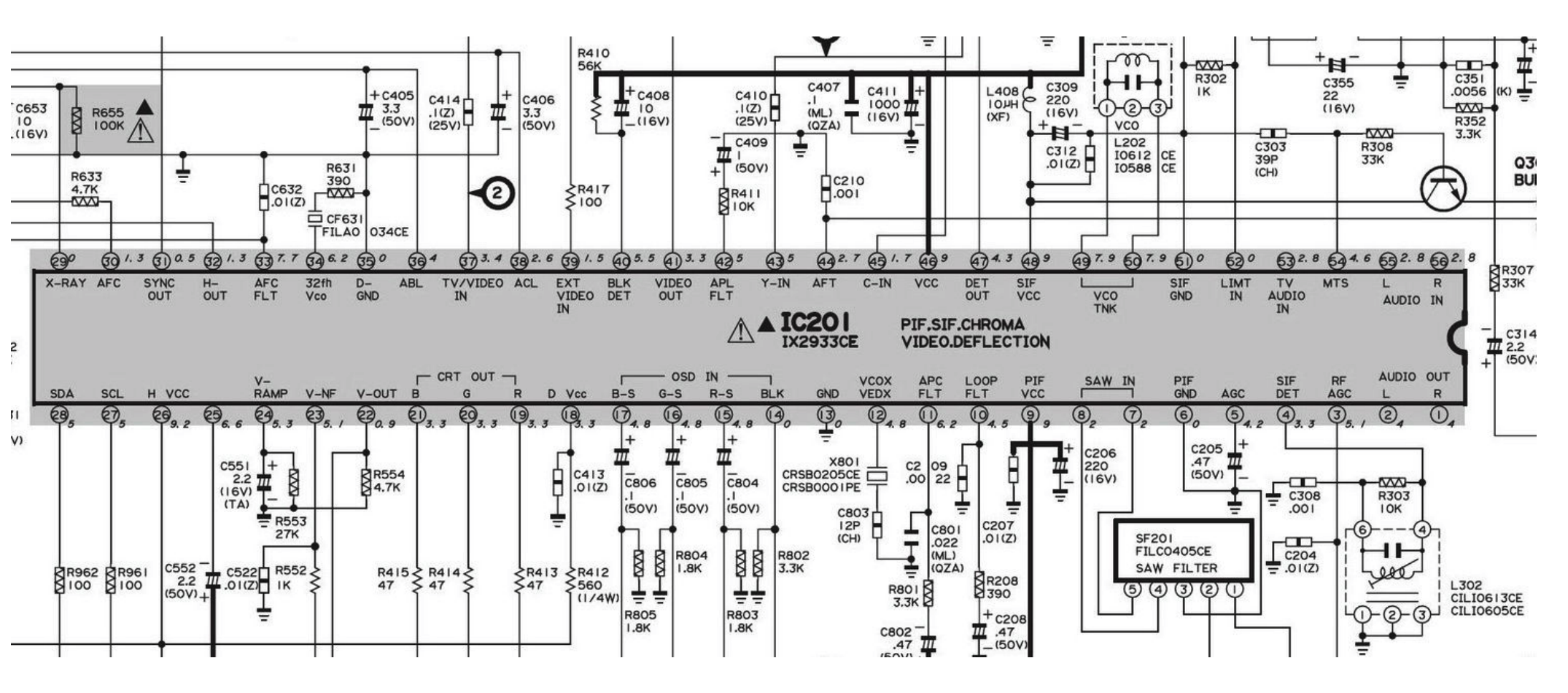 Mux diagram
If you are building your own circuit, this diagram should help
Calculating the RGB external resistor value
Love it when we can put theories to use! Formula from our theory page!
RGB external resistor value = 0.7 x (6800 + 75) - (75 x 5) / (5 - 0.7) = (4812 - 375) / 4.3 = 1030 ohm
~ 1 Kohm resistors should do the job.
Performing the mod
Now that you roughly know what needs to be done, prepare for the mod. Place the board on a comfortable place. Make sure you are not putting pressure on the flyback or other components.
STEP 1: Remove the following components
Remove the following components. RGB resistors to the ground. Measure twice and mark before you remove.
R803 (1.8 kΩ)
R804 (1.8 kΩ)
R805 (1.8 kΩ)
STEP 2: Connect RGBs, Blanking and Audio
Close up of RGB and Blanking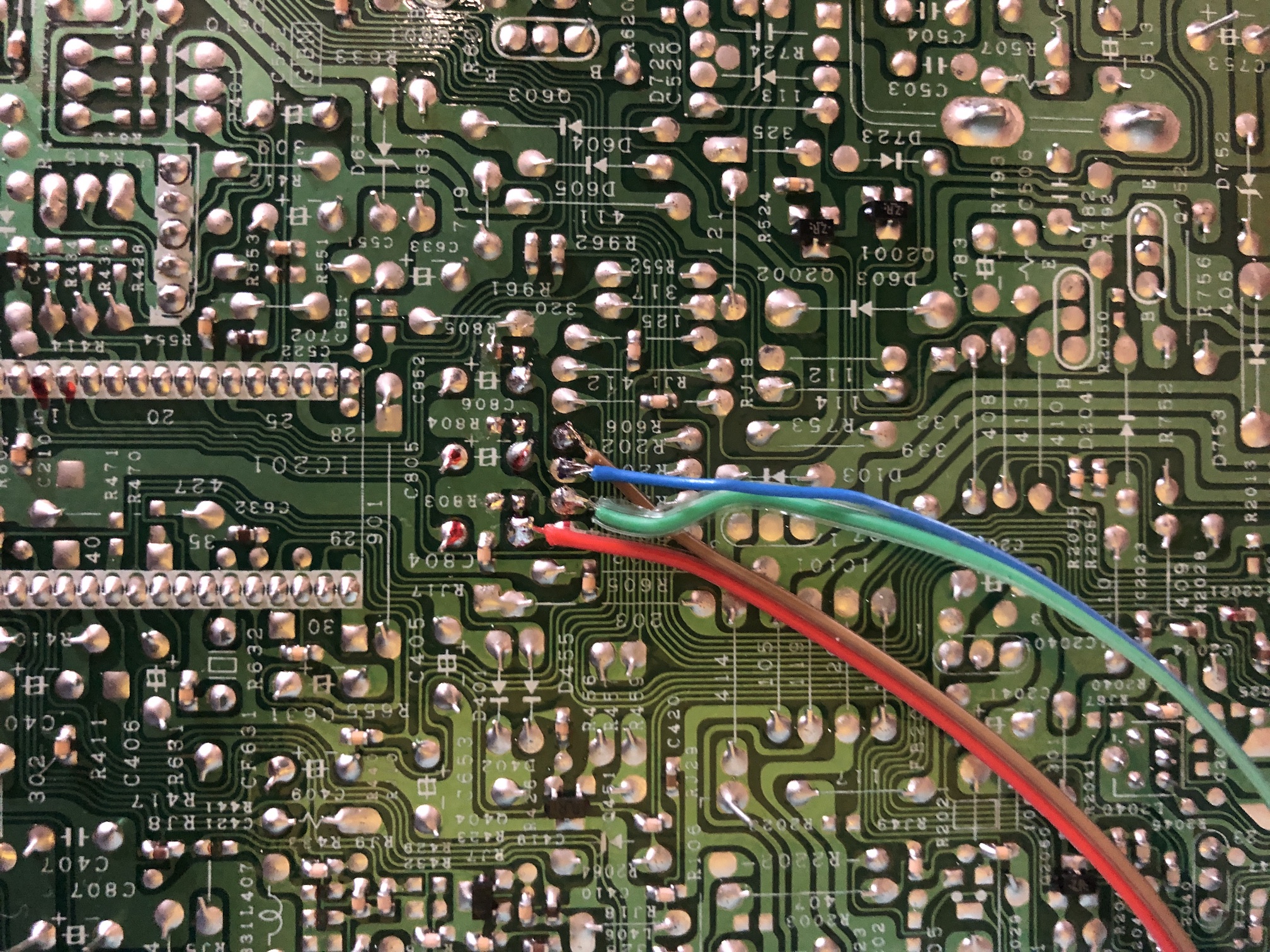 Close up of Sync and Audio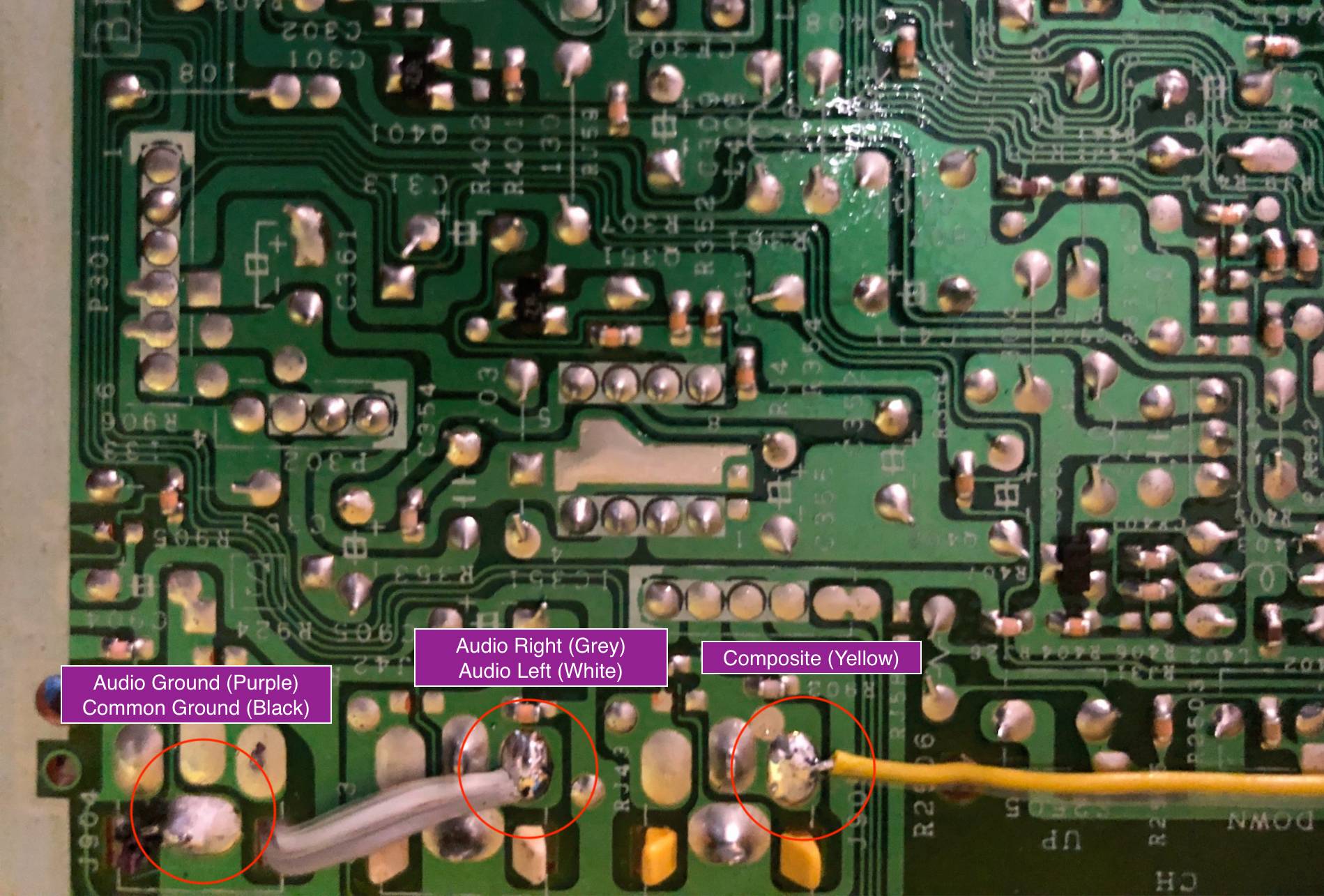 All wired up!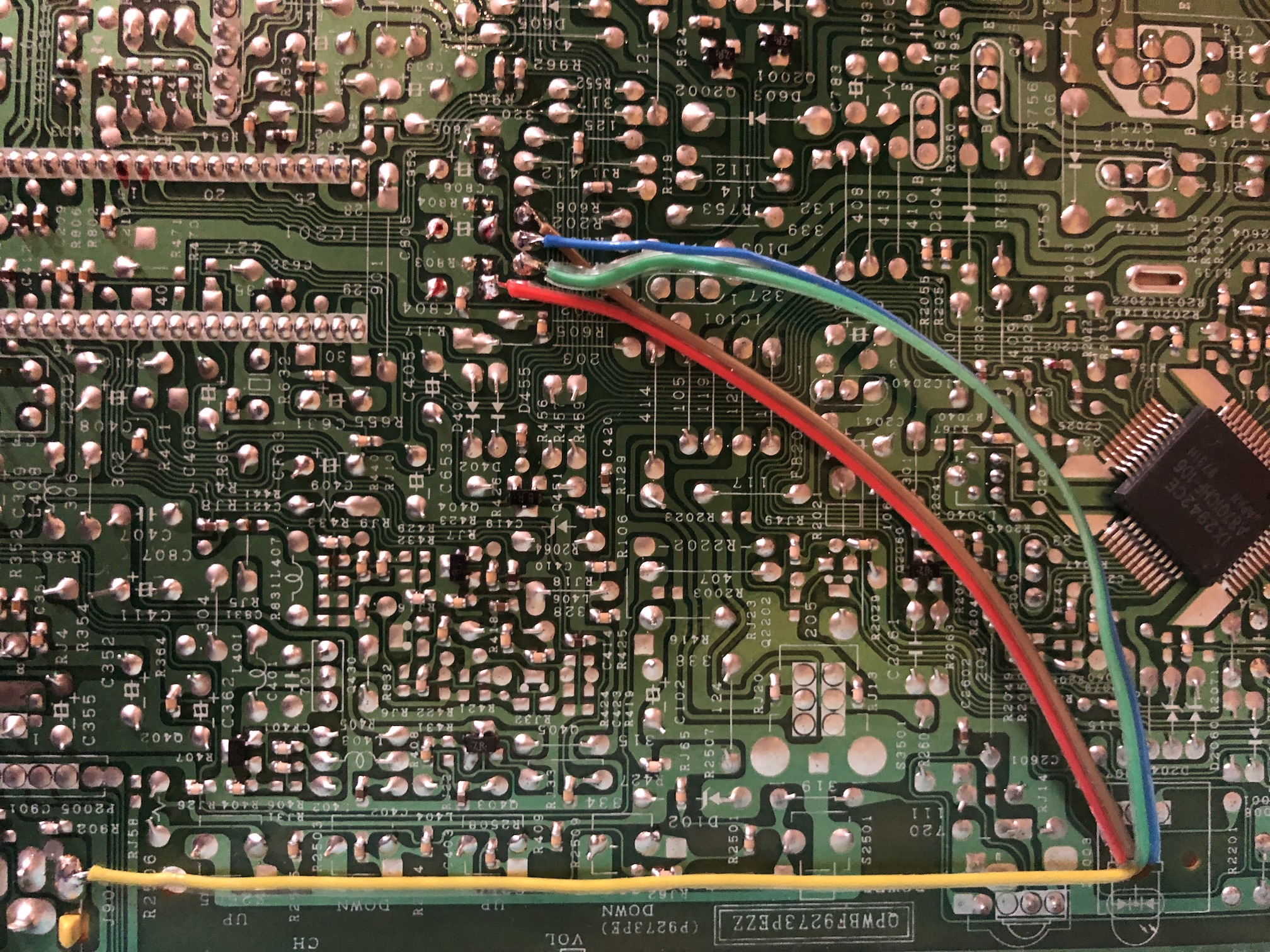 STEP 3: Build your mux board
Below mod uses the RGB mux board. This is optional, but will make your mod easier and stable. You can also create the circuit presented in the schematics above without the board. Please also checkout the precalculated resistor values.
| TV Model | CJ13M10 |
| --- | --- |
| Audio LR | 1kΩ |
| RGB termination | 75Ω |
| RGB inline resistors | 1kΩ |
| Diode | 1N4148 |
STEP 4: Attach the female SCART connector to TV
Creating a SCART cutout and mounting it is an art. I have a dedicated section for it.
How to create and mount a SCART female plug?
Remote Control for this TV
Getting into service menu
While pressing the Vol-up and Ch-up buttons at the sametime, plug the AC cord into a wall socket.
Pictures of the mod
Games
NES Adventure Island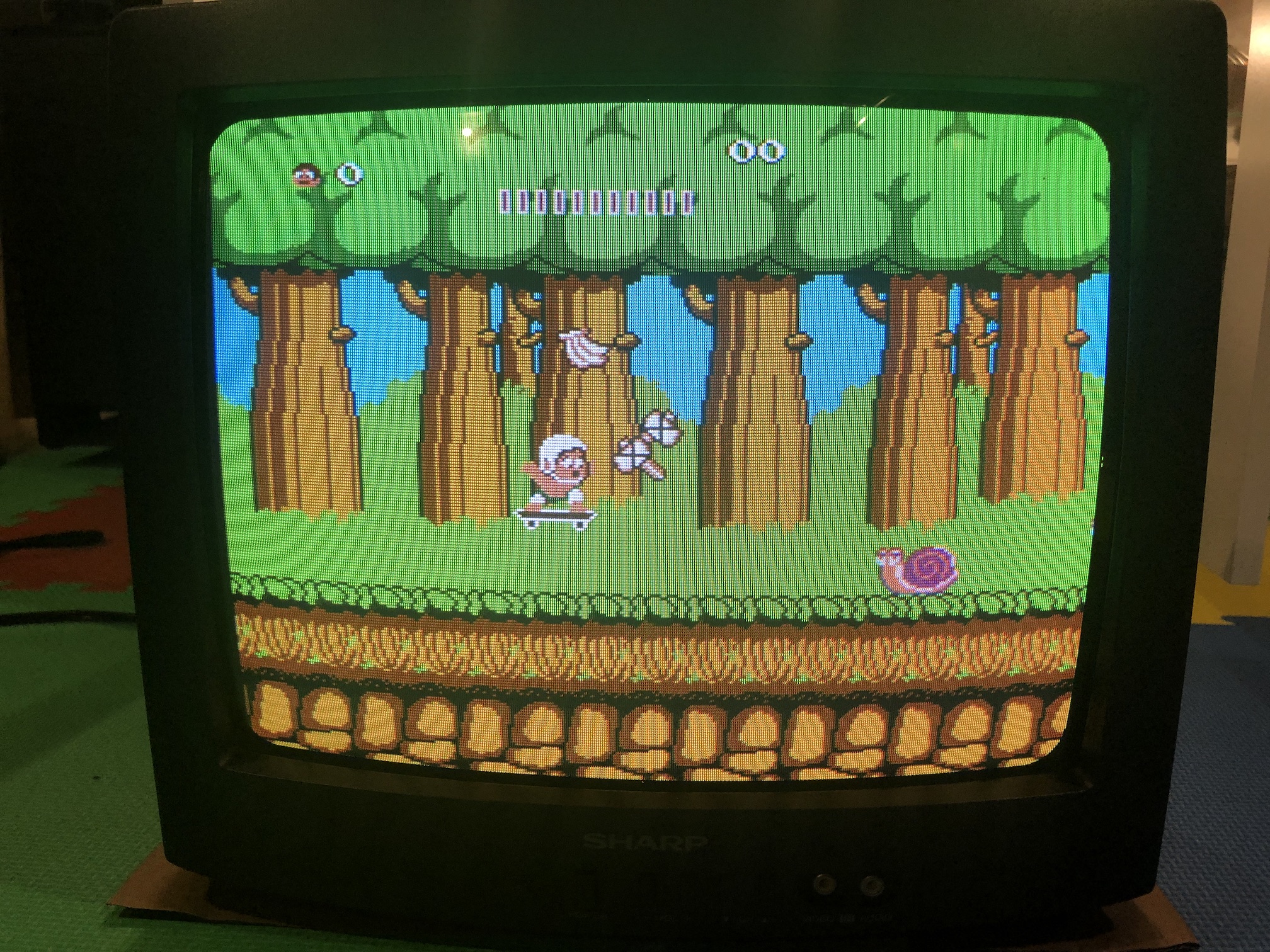 NES Adventure Island Close up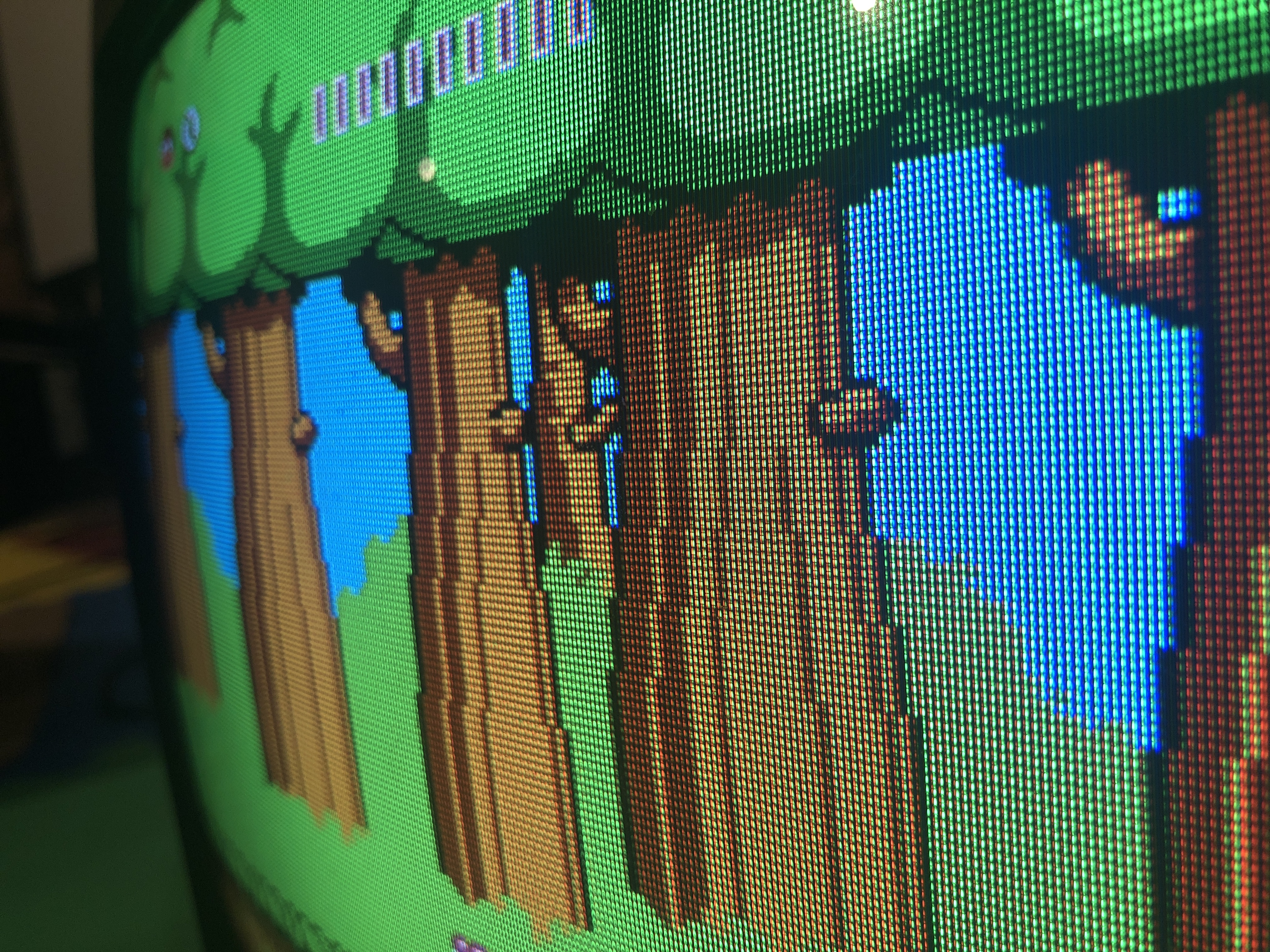 SNES Contra Alien Wars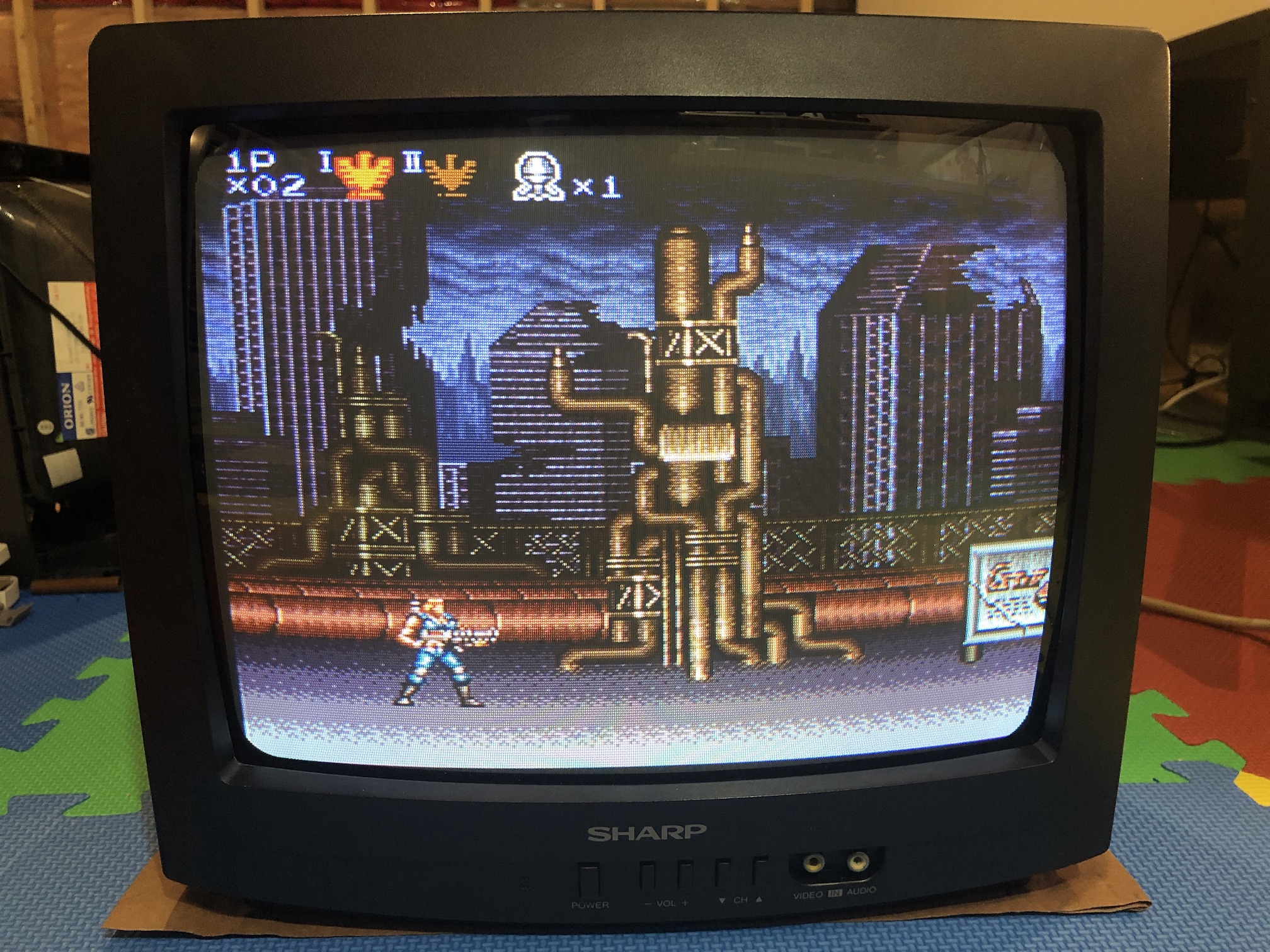 Game menu overlay (mux in action)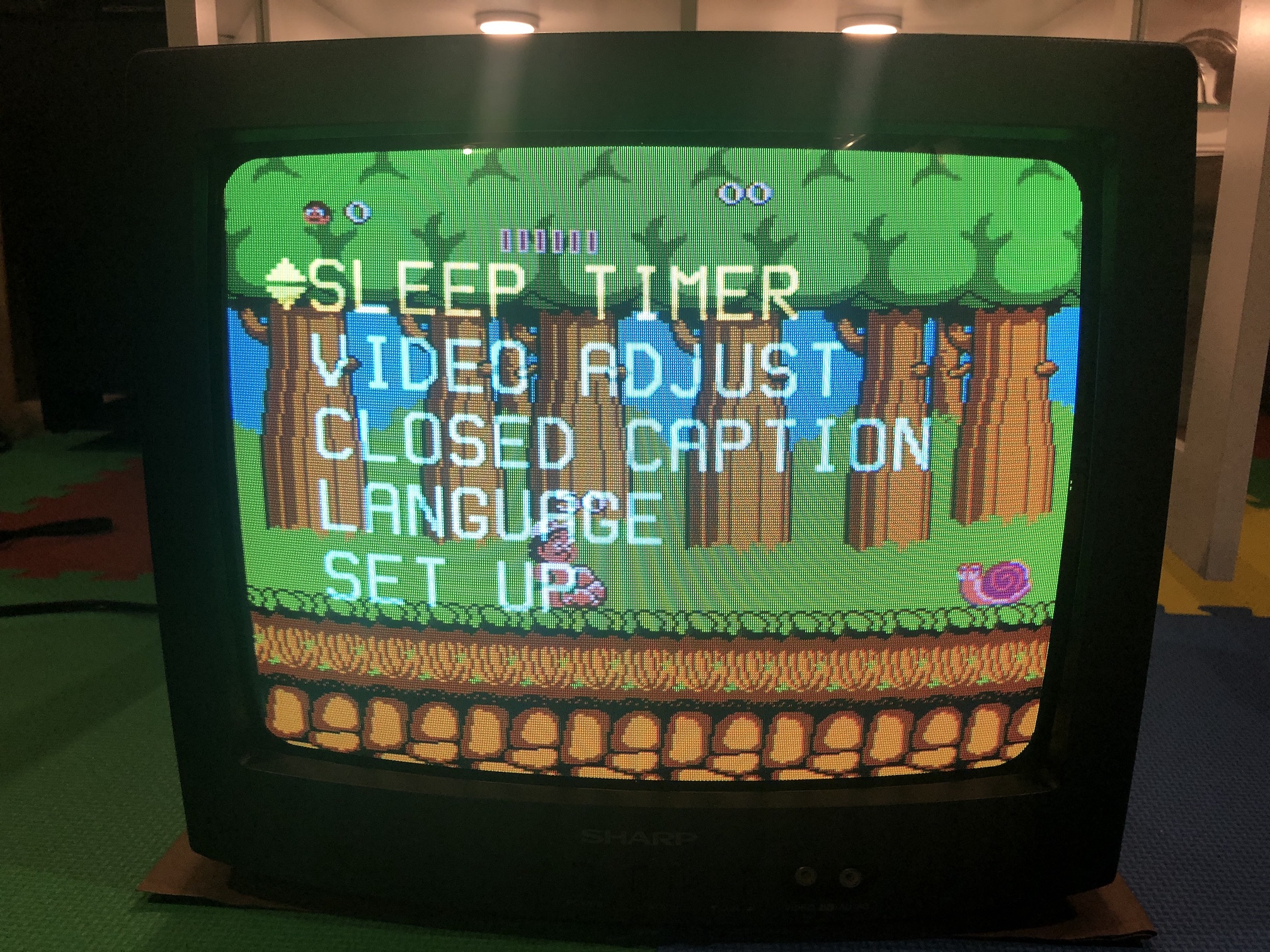 Genesis 2 Sonic The Hedgehog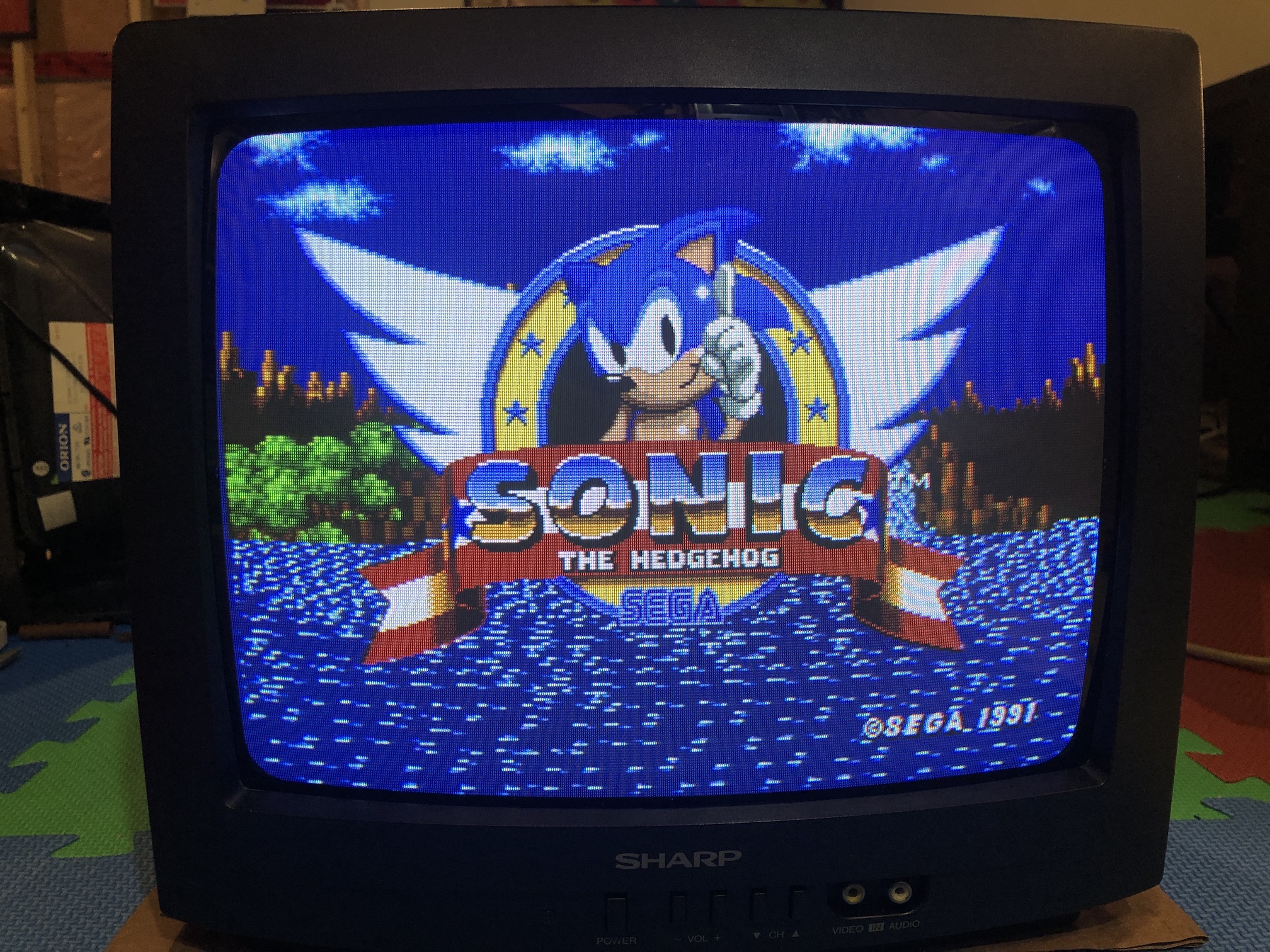 XBOX Unleash X menu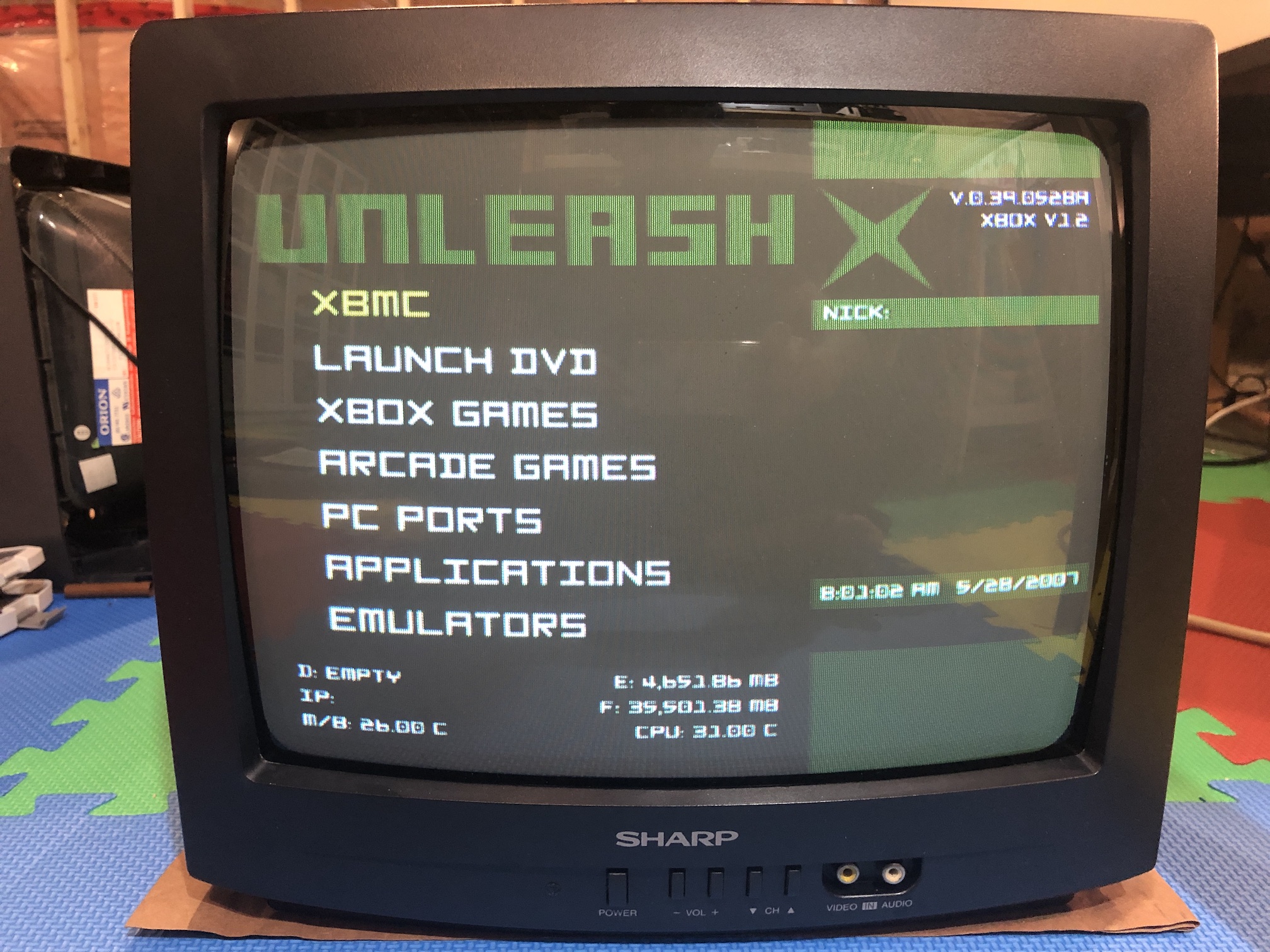 Patterns
Text from FXPAK Pro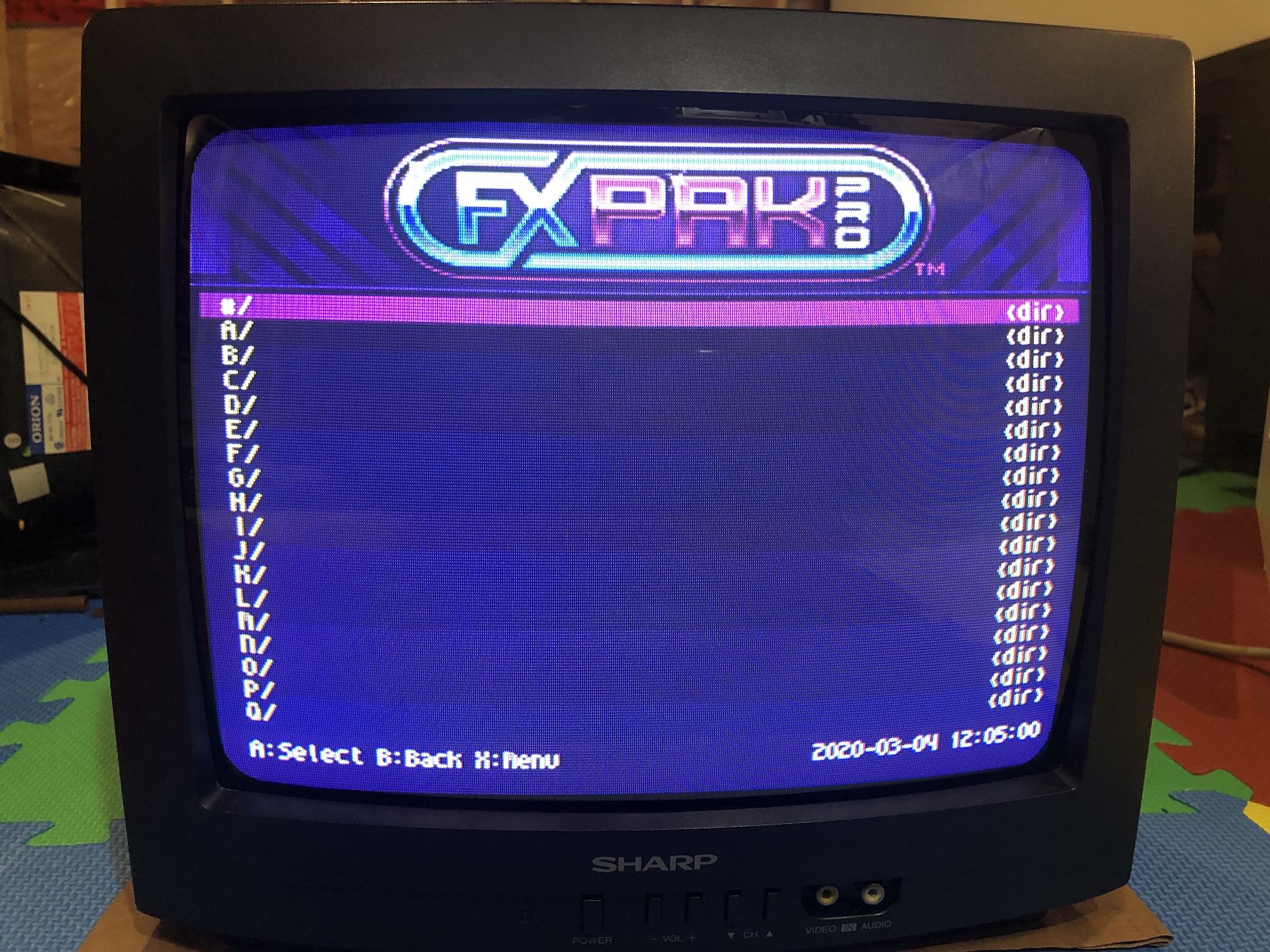 Grid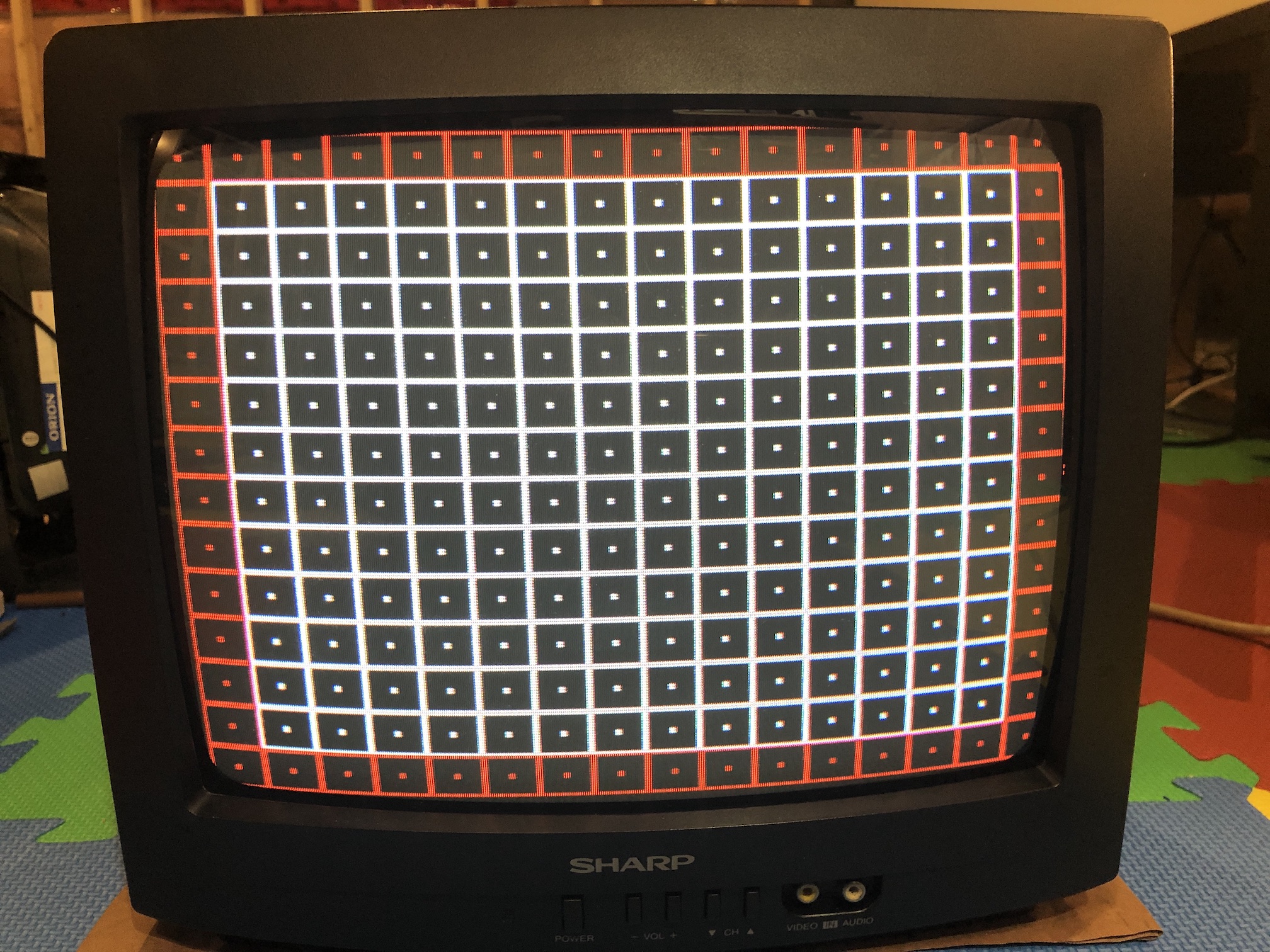 SMPTE Color Bars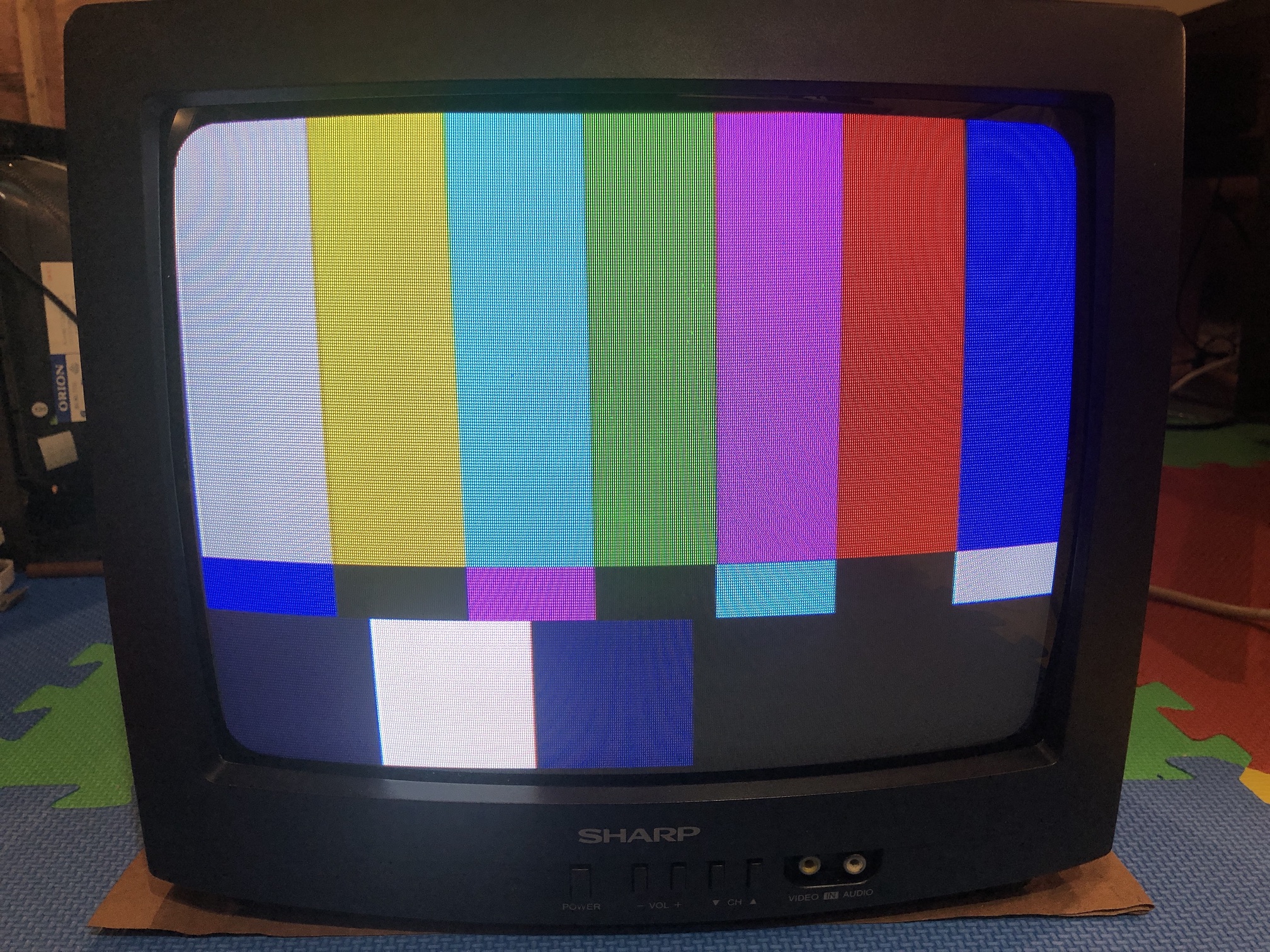 Neck board ground wire mod
The ground wire from the tube is soldered to the neck board, which makes it difficult to remove the board entirely from the CRT. While, this may not be necessary for this RGB mod, it definitely makes it easy to connect/disconnect the ground wire attached to the tube. I found the cable and the pin from another CRT that was going to be recycled.
Neck board back
Neck board pin soldered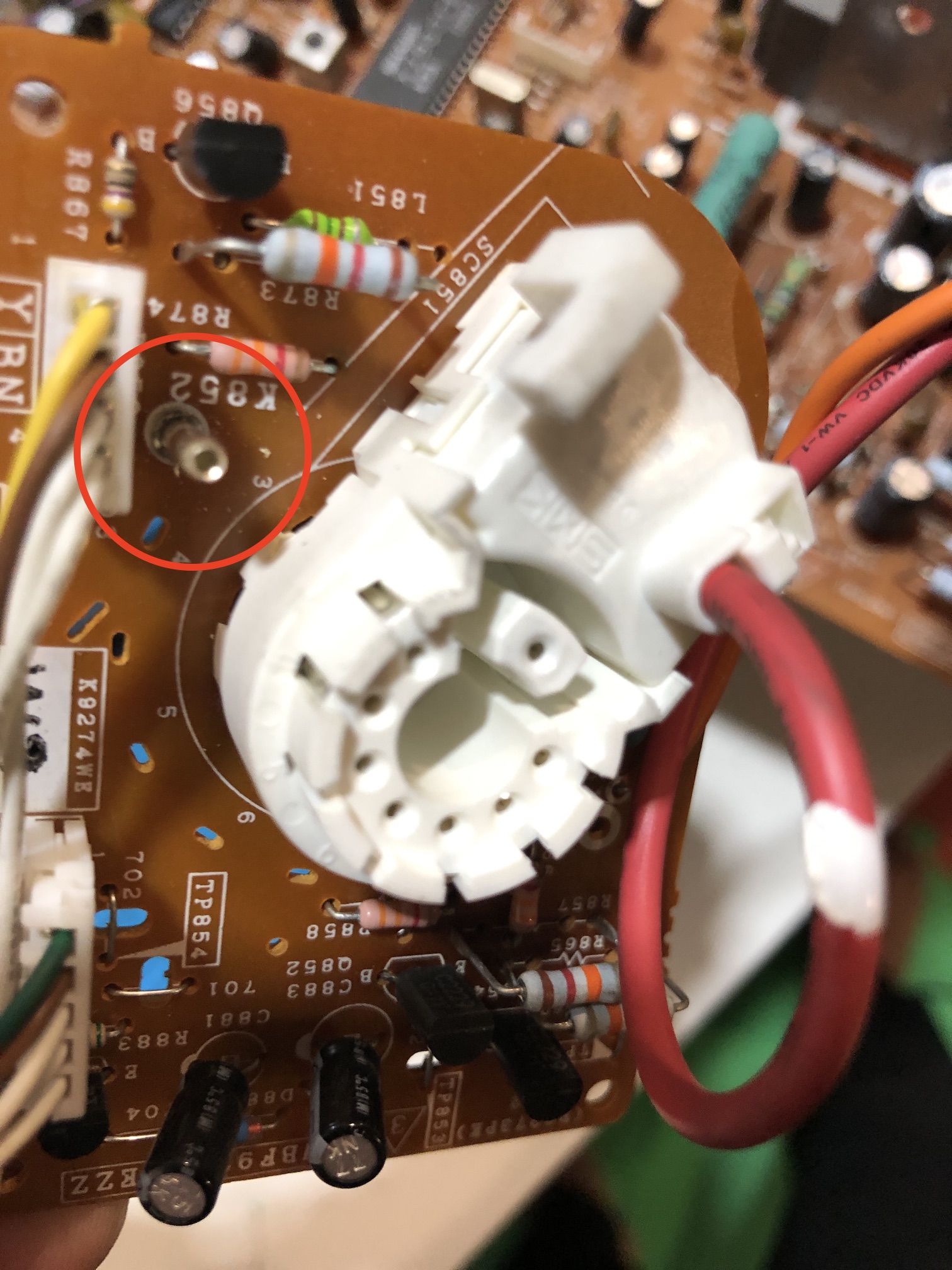 Tube new wire soldered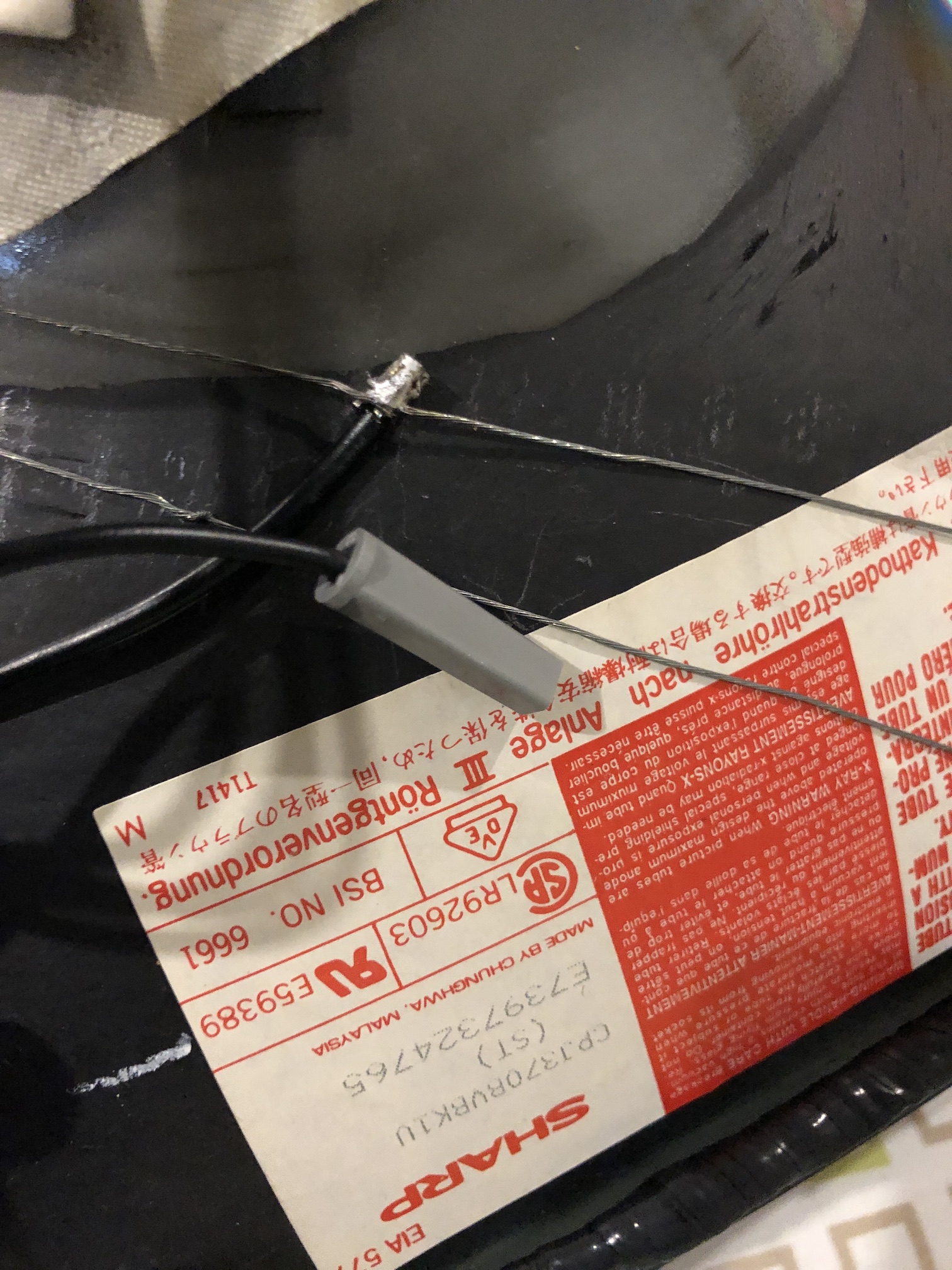 Neck board ground attached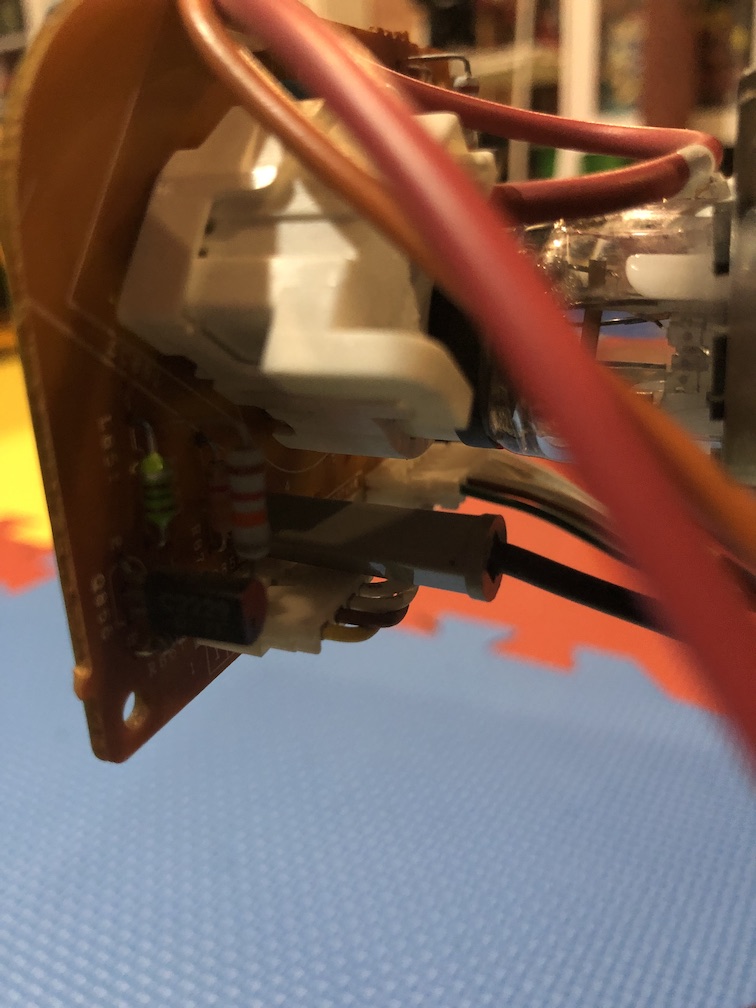 Service menu settings
CJ13M10
| NUM | SETTING | VALUE | FIXED |
| --- | --- | --- | --- |
| S01 | PICTURE | 60 | DEFAULT |
| S02 | TINT | 3D | DEFAULT |
| S03 | COLOR | 33 | DEFAULT |
| S04 | BRIGHTNESS | 56 | DEFAULT |
| S05 | SHARPNESS | 24 | DEFAULT |
| S06 | VERTICAL PHASE | 06 | DEFAULT |
| S07 | HORIZONTAL PHASE | 17 | DEFAULT |
| S08 | RF-AGC | 26 | DEFAULT |
| S09 | VCO | 12 | DEFAULT |
| S10 | VERTICAL AMP | 26 | DEFAULT |
| S11 | R CUT-OFF | 09 | 00 |
| S12 | G CUT -OFF | 00 | DEFAULT |
| S13 | B CUT-OFF | 24 | DEFAULT |
| S14 | G GAIN | 9F | DEFAULT |
| S15 | B GAIN | 84 | DEFAULT |
| S16 | TRAP | 00 | DEFAULT |
| S17 | BALANCE | 20 | DEFAULT |
| S18 | C.C.POSITION | 1C | DEFAULT |
| S19 | Y-MUTE | 00 | DEFAULT |